Adequan for dogs and horses by Luitpold
We carry Adequan for dog and horse use.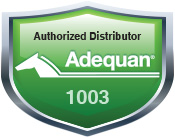 For Dogs
we carry the Adequan for dogs in a 100mg/ml injection. Numerous studies show that Adequan® Canine (polysulfated glycosaminoglycan) can slow the cartilage from breaking down and actually supports the repair process. And unlike nutritional supplements, Adequan for dogs is FDA-approved* so you can be assured of its effectiveness.

For Horses
we carry Adequan for horses in two sizes: 50ml (10 dose) bottle (ON MFG BACKORDER), and 5ml bottle.
Equine MultiDose Vial!
NEW Convenient 50mL Adequan
®
i.m. Multi-Dose for horses (polysulfated glycosaminoglycan) NOW 10 in 1. Don't forget about
Adequan i.m. 5ml
(polysulfated glycosaminoglycan) for horses. 1 vial (500 mg) every 4 days for 7 treatments. The 7-dose package helps aid in proper dosage. Both Adequan for horses are recommended for the intramuscular treatment of non-infectious degenerative and/or traumatic joint dysfunction and associated lameness of the carpal and hock joints in horses.