KerAForm
Low Price Guarantee
Free shipping over $75
128-day supply when offered at the maintenance level of 1 oz per day
25lb bucket
Special Order Item - please allow 7-14
business days for delivery.
by Kentucky Performance Products
Ker-A-Form is a scientifically formulated coat and hoof supplement that is named after one of the tissues it was developed to nourish "keratin." Keratin is the fibrous protein that forms the main structural component of hair and hooves. Without healthy keratin, hooves and hair grow slowly and become dull, dry, and brittle. The combination of nutrients found in Ker-A-Form support keratin as well as multiple other components that make up healthy skin, hair, and hooves.
Ker-A-Form will aid in the eliminating of dry, flaky hair coats and brittle manes and tails
Ker-A-Form contains ingredients that provide natural oils in the coat, bring out dapples, and enhance both color and sheen
Ker-A-Form supports a reduced incidence of toe cracks, quarter cracks, and other hoof abnormalities that stem from weak keratin in the hoof wall
Ounce for ounce, Ker-A-Form provides superior value for your dollar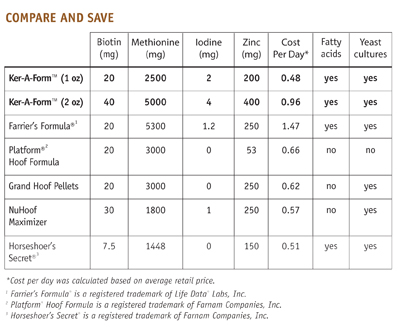 KER-A-FORM™
K.P.P.
Hoof and Coat Supplement
KER-A-FORM is a specially designed supplement containing biotin, methionine, iodine and zinc. These ingredients are combined with lecithin and full-fat soybean meal to support healthy hooves and hair coat. Yeast cultures are added to increase absorption.
FEEDING DIRECTIONS:
Feed all classes of horses 1-2 ounces per day mixed with the feed (1 scoop = 1 ounce).
GUARANTEED ANALYSIS:
| | | |
| --- | --- | --- |
| | Per Ounce | Concentration |
| Biotin | Min. 20 mg | 700 ppm |
| Methionine | Min. 2,500 mg | 8.8% |
| Iodine | Min. 2 mg | 70 ppm |
| Zinc | Min. 200 mg | 7,100 ppm |
| Lecithin | Min. 5 g | 17.5% |
INGREDIENTS:
Ground extruded whole soybeans, lecithin, yeast culture, dl-methionine, zinc proteinate, d-biotin and ethylenediamine dihydriodide, preserved with ethoxyquin and propionic acid.
STORAGE:
Store in a cool, dry place. Reseal lid during storage.
Guaranteed by: Kentucky Performance Products, LLC, P.O. Box 1013, Versailles, KY 40383
859-873-2974
www.KPPusa.com
| | |
| --- | --- |
| Net Wt. | |
| 3.0 lb (1.36 kg) | 11-104 |
| 25.0 lb (11.34 kg) | 11-104 |
NAC No.:
1079007.1