Udderly EZ Milker
Low Price Match Guarantee
Free Shipping
No returns on this item
Please allow 7-10 days for delivery on this item
by Udderly EZ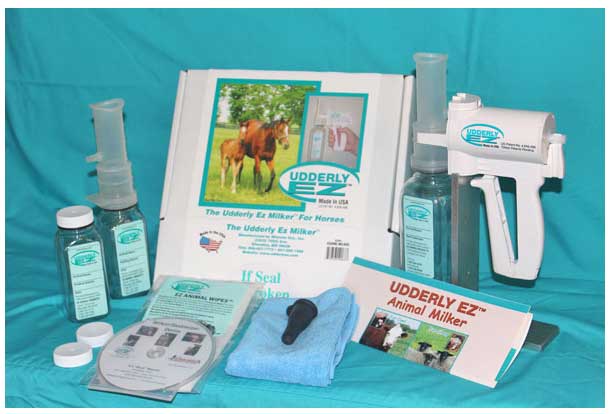 Mare Milker Kit includes:
The Udderly EZ pump
2 sizes of extraction cylinders
(#1 Small and #2 Large)
Bottle nipple
Udder wipes
1 pint and 2-8oz milk/colostrum collection bottles with caps
Operation Manual and DVD
Microfiber Dairy Towel
The safest and most effective milk and colostrum collection device available. One hand operation is gentle on mare, making it safe and easy to milk. Great for milking mastitis mares. Ideal for foals who inherit a different blood type than the dam and are at risk for neonatal isoerythrolysis. Patented pump is manufactured with the highest quality engineered composite materials. Comes packaged with two 16 ounce collection bottles.

Please note: Unfortunately, because of Biosecurity reasons and appropriate veterinary policy, the manufacturer prevents us from permitting returns for any reason. No Exceptions! Please order carefully.